Funny t-shirts with humorous jokes, quotes and slogans are our specialty. So, check out the hilarious and funny t-shirts on this site. You can't find these humorous t-shirts on Ebay. And you can quote us on that!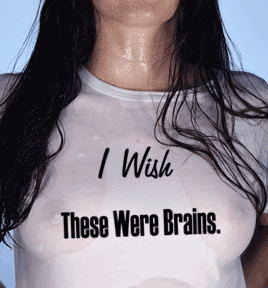 The funny t-shirts featured here will make you fart with laughter.


Select a few FUNNY QUOTES and place them on a 100% cotton white t-shirts for only:
$16.99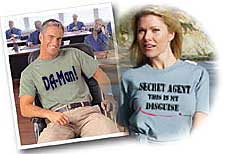 Click on the pages on the left panel to get started!
When you find a slogan # you like click: ADD To CART
We ship both first class and priority US mail.
Most orders are shipped within 1-2 business days.

Funny t-shirts with quotes and slogans live on this website. If you're looking for some funny and humorous t-shirts, you've come to the right place, my friend. This site features funny t-shirts that will make you snort milk out your nose. If you like to snort milk out your nose, this is not such a bad thing!
For years, we have featured funny t-shirts with all sorts of wacky sayings. Our customers not only appreciate the fact that we carry such funny t-shirts but also that we use name brand t-shirts as well, such as Hanes, Anvil, Gildan, M&O and Jerzees to deliver the finest quality to you.
Some other funny t-shirt websites have all sorts of goofy graphics, but we're a "Word" website for people who appreciate the clean simplicity of powerful, funny slogans, quotes and jokes. Our funny t-shirts continually get rave reviews from our customers. If you're looking for a funny t-shirt website that been around for years with thousands of satisfied customers, then you've come to the right place, my friend. You can't buy our funny t-shirts in any land-based store, only online.
On our humorous and funny t-shirts website, we've also added a section where you can customize your own t-shirts. All you have to do is come up with your own funny t-shirt slogan, place an order and fill in the blank with your own words or wit and wisdom, and we do the rest. Making your own funny t-shirts has never been this easy! So, give it a try!
Here what the notables are saying about our funny t-shirts:
Adrian! Adrain! I've never seen so many slogans for funny t-shirts in my life. I mean the funny t-shirts on this site are the most humorous things on the face of the earth. Why I remember going 15 rounds with Apollo one evening and looking out into the crowd seeing my fans wearing a bunch of these funny t-shirts. I was laughing as I was getting my teeth knocked out.
- Pope Benedict XVI
Indubitably funny t-shirts on this website are the tops on the entire planet. I mean one time 3CP0 and put on some of the funny t-shirts found here, danced the Macarena and had the best time of our lives. I can't tell you how many times these funny t-shirt have put a smile across my smug little face. If you do finally catch up with me, I will be wearing one of these funny t-shirts.
- Bin Laden
Aaaaarrrggghh! These here funny t-shirts are the pirates life for me! I mean, me's put on several of these funny t-shirts ats one time and impress all me mates swabbing the poop deck. As I scratch myself with me hook, I laugh at these funny t-shirts hanging in the galley and upon the scurvy dogs who're walking the plank at the time.
- Maya Angelou
G'Day, Mate! I love these funny t-shirts! What can I say, you Bloke. These funny t-shirts be the bomb. I'd take a lift to the bottom floor and check under the bonnet for these wonderfully funny humorous t-shirts. Chip, chip, cheerio old chap, these funny t-shirts must be the best around. So buy a bunch today.
- Rev. Jesse Jackson