Funny Apparel
For some fabulously funny apparel, check out the threads we have to offer. The funny apparel that is featured contains all sorts of humorous slogans, sayings and quotes. So, don't be shy and buy some very funny apparel today.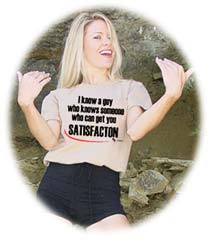 C1. Well-Traveled. Not really, my mind just wanders.
C2. Runs with scissors.
C3. I was once arrested for assault at a toy company. Battery not included.
C4. Just when I find the key to success, someone goes and changes all the locks.
C5. Can't we all just get a bong?
C6. I'm A Self-Righteous Jerk. You got a problem with that.
C7. I used to be a man of vision, before the medication cleared it up.
C8. Pants On The Ground
C9. Don't Worry. We're Not Laughing WITH you.
C10. Jive Turkey.
C11. It's Official: I've become one of those guys who yells at the TV.
C12. I'm My Own Boss. Yet, oddly, I can't stand that jerk.
C13. My Dad Thinks I'm A Virgin
C14. Time-Space Continuum. My belly is the portal.
C15. I know a guy who knows someone who can get you satisfaction.
C16. It's A God-Given Right To Take Your Problems
Out On The People Around You.
C17. Family Guy he he he he
C18. Plays with matches.
C19. Never learns.
C20. Self-Awareness is a bitch!
C21. With Great Power Comes Great Irritability
C22. I've grown tolerant to pepper spray.
C23. I had a job doing Origami, but it folded.
C24. Abnormal fear of Alex Trebek.
C25. Look Down and Check Out My Stimulus Package
C26. Following My Bliss Has Resulted In A Restraining Order
C27. Some multi-task. I multi-slack.
C28. I live at the corner of Kiss My Ass Avenue and
No Friggin Way.
C29. Wedgie Expert
C30. Will Work For Change
C31. How Dumb Do They Think We Are?
C32. I may be in my right brain, but I'm not in my right mind.
C33. It's never too late to procrastinate
C34. I am my own science project
C35. Long Dong
C36. I don't have low self-esteem, I have high disregard for myself.
C37. Center of Detention
C38. Jerks need lovin' too!
C39. Captain Kirk goes beserk, well there goes the whole enterprise!
C40. Got A Sister?
C41. Jackass Of All Trades
C42. My wife has a medical problem. Her body keeps
rejecting my organ.
C43. Mommy, Is There Really A Jesus Claus?
C44. That's about as much fun as a colonoscopy with a tire iron
C45. Mudflap Girl
C46. Not now, I'm watching the game.
C47. I Chose The Road Less Traveled. Now Where Am I?
C48. I don't suffer from stress. I'm a giver.
C49. Next time you talk to me, bring duct tape.
C50. Boobs
C51. ?
C52. I'm What Willis Was Talkin' 'Bout
C53. You're Fired
C54. Houston, We Have A Problem
C55. I Sleep With The Boss
C56. It's against my religion to go to church
C57. Bo Diddley or Jack Squat - Do You Know Either?
C58. Pirates Without Partners
C59. LIFE, is a full-time job
C60. I'll Call You. (yeah, right!)
C61. I Eat Carbs
C62. Time is the best teacher. Unfortunately,
it kills all of its students.
C63. If we are what we eat, I'm fast, cheap and easy.
C64. A hundred thousand sperm and you were the fastest?
C65. Chaos. Panic. Disorder.
My work here is done.
C66. Are These People Really My Relatives?
C67. My Wife Is Always Complaining That I Don't
Listen To Her ... Or Something Like That.
C68. It's All About Me.
C69. I'm a prince in Lagos, Nigeria and I want you
to help me move $50 million out of the country.
C70. Enough about me ... what do you think about me!
C71. I'm not opinionated, I'm just always right!
C72. G.R.I.T.S. (Guys Rednecking In The South)
C73. Support the arts. Sleep with a musician.
C74. Why Procrastinate Tomorrow When You Can Do It Today?
C75. Imus & Andy
C76. Really, Really, Really Mature
Hear what the wrestlers are saying about funny apparel:
This funny apparel just make me want to say farewell to the rest of my clothing. I'm here to say, that just reading the about the funny apparel on this page puts a big smile all over my face. And, when you have a big face like I do, that is a difficult task.
- Andre the Giant