T-shirt Slogans
T-shirt slogans make the world go round, especially if they're funny. That is why we offers so many different t-shirts slogans on this page - to make you laugh! Okay, so a grunt, snicker or chortle will also do. Be that as it may, the t-shirt slogans on this page have been vetted from thousands of possibilities to bring you only the top possible choices on the web. Okay, that may be overstating it a bit. Basically, we just write the t-shirt slogans that make us laugh and then post them here. Hope you like them.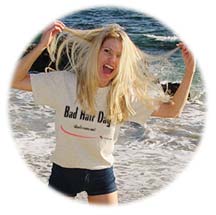 D1. Save the trees. Eat a beaver.
D2. You're killing me!
D3. Will Scratch My Butt For Food.
D4. A Farce To Be Reckoned With
D5. I get everything I set my mind to -
now where did I set my mind?
D6. Oh No He Didn't!
D7. I'm not a stable boy but every morning,
I wake up a horse's ass.
D8. Gene Pool Full. Get Out!
D9. I pee in the shower.
D10. Teachers are Weapons of Mass Instruction
D11. If I was you, I wouldn't be me!
D12. No She Dinn't!
D13. Pianist Envy
D14. School is where they put you to learn
while you're trying to do other things.
D15. Sometimes I aim to please, but mostly I just shoot to kill.
D16. I'm on Debt Row.
D17. My Search Engine
Ran Out Of Gas.
D18. Read the fine print, dumbass.
D19. Figment of my own imagination.
D20. Queen Be-atch
D21. Forever Jung.
D22. I suffer from premature infatuation.
D23. Up Yours
D24. The real me sucks, too!
D25. Denial is a good thing if used correctly.
D26. No Titty Twisters Please!
D27. I do all of my own stunts
D28. Equal Opportunity Annoyer
D29. I've just had an out-of-body experience,
but wait, I'm getting ahead of myself.
D30. Bad Hair Day
(don't cross me)

D31. Impatience is not to be tolerated!
D32. Mom Likes Me Best
D33. Dad Likes Me Best
D34. There was an ocelot named Lancelot who liked to sing and dance a lot, who got into my pants a lot. Damn, that Lancelot!
D35. This body best viewed with Internet Explorer 4.0 or higher.
D36. Save The Drama For Your Mama!
D37. Check out the Junk in my Trunk!
D38. A penny for your thoughts. A dollar if you flash me!
D39. And Yet, I Digress.
D40. Save a tree. Wipe your ass with a spotted owl.
D41. YaThink
D42. And your point is...
D43. Fraidy Cat
D44. Whatever...
D45. Looking Good Is A Curse
D46. If you don't want me looking, stop looking so good!
D47. Blunt Force Trauma Enthusiast
D48. Nice Rack
D49. Could Be Worse
D50. I'm Brainstorming Here (And Quite A Storm It Is)
D51. Which Is Bigger, A Bazillion Or A Gazillion?
D52. Eat. Sleep. Mate. Repeat.
D53. God wants us to be happy, otherwise He never
would have created Internet Porn.
D54. Behind every great man is a woman rolling her eyes.
D55. Major Yabbos
D56. Merrily, Merrily, Merrily, Merrily, Life Is But A Scream!
D57. I Get Enough Excercise Just Pushing My Luck
D58. It's only funny until someone falls...then it's hilarious
D59. LOOK, but don't touch.
D60. Best In Show
D61. You Will Do For Now
D62. Will Flash 4 Food
D63. Priceless.
D64. Cleverly Disguised As A Responsible Adult
D65. All of us were born crying. Some of us outgrow it.
D66. No good ever came from the phrase "I don't have enough work to do".
D67. Polygamy Loves Company
D68. If smell is associated with memory, all I can remember are farts.
D69. Kansas: Where You Are Forbidden To Evolve
D70. I've done a lot of soul searching and there's nothing there.
D71. Check Out My iBone
D72. I'm sorry, your complaint is way too whiny to be received.
D73. Bicycle and Recycle
D74: Don't feel bad, somebody always has it worse than you do. And, don't feel good, somebody always has it better, too.
Hear what the high profile people are saying about the t-shirt slogans on this page:

Yeah, these weird little t-shirt slogans are creeping me out, man. I mean, these funny and wacky t-shirt slogans make me laugh and all. But, I never laugh. That's why I am creeped out. I mean, I laughed once back in the 16th century, but that was long ago and I've forgotten how to laugh since then. Until visiting this page, that is. And then these humorous t-shirt slogans just blew me away and now I'm beside myself. You, know, like a twin.
- Kim Jung Il

These t-shirt slogans are a bunch of malarkey I tell you! They are really pissing me off! I'm not used to laughing so hard and in fact, I don't want to laugh hard. But, I lose control of me bodily functions when I read the t-shirt slogans on this page. How did these people get so many damned funny t-shirt slogans all in one spot in beyond me.
- Pope Benedict