Funny T-shirts
Funny t-shirts come with many different choices in slogans, quotes and sayings upon them. So, if you're a fan of funny t-shirts, then look no further as doing so may just cause a big, black raven to peck your eyes out. No, really. There's a big black Internet raven circling in the wires in your neighborhood right now and you don't want to upset this little Edgar Allen Poe proponent, now do you? Anyway, all silliness aside, buy some funny t-shirts here and you'll be satisfied. Awwwk!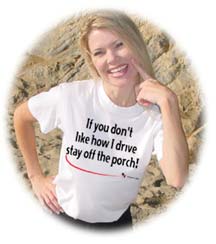 A1. If you don't like the way I drive, stay off the porch! A2. I See Dumb People. A3. Jesus Saves ... At ThriftyMart. A4. Jerks Need Lovin' Too! A5. Evil Opportunity Employer A6. Muahahahaha! A7. Don't Hate Me Because I'm Beautiful. Hate Me Because I'm a bitch! A8. I'll be spontaneous when I get around to it! A9. So many pedestrians, not enough horse-power A10. Will Work For Shoes
A11. Secret Agent: This is my disquise
A12. Damn right, I'm good in bed... I can sleep for days!
A13. My Wild Oats Have Turned To Mush A14. Until you walk a mile in another man's shoes,
It's not officially 'stealing.'
A15. I'm donating my body to Science Fiction.
A16. Had This Been An Actual Emergency,
I would have screamed,
"AAAAAAAAAAAAAAHHHHH!!!"
A17. Show Me The Funny!
A18. Please tell your boobs to stop staring at my eyes.
A19. I like to get drunk and place bids on Ebay.
A20. Everyone is entitled to my opinion.
A21. My reality check is in the mail A22. I'm Only 99% Perfect A23. Roses Are Red,
Violets are blue,
I'm a raving lunatic,
HAAAAAAAAHHHH!!!!!
A24. Does not play well with others.
A25. Beehive Tetherball (for or against?) A26. The voices in my head keep debating
the lyrics to "Hotel California." A27. Slacker
A28. My way or the highway! A29. I may not be cloned unless under the express
written consent of the Commissioner of Baseball.
A30. Go Google Yourself!
A31. My Search Engine is making a funny noise. A32. Does This Make Me Look Fat?

A33. Request Denied! A34. If you're not outraged, you're not paying attention! A35. But it's a DRY heat. A36. Out Of Control A37. Save the Date A38. Humid Being A39. The World DOES Revolve Around Me. A40. Say Hello To My Vajayjay A41. Jive Turkey A42. Be Glad I'm Not A Twin. A43. How did I get so cute? A44. Alpha Male A45. I'd like to do a backstroke in the pools of your eyes. A46. The monkey on my back, carries a chip on his shoulder. A47. Ever notice that 'Cupid' rhymes with 'Stupid'? A48. Queer Eye For You, Guy! A49. Bracing myself against the cold shoulder. A50. Imus No Mas A51. Stop me before I volunteer again! A52. I do all my own stunts. A53. Einstein's Half-Brother, Fred A54. The Whole World Doesn't Revolve Around You (it revolves around me). A55. Here I am! What are your other 2 wishes? A56. I'm still a hot babe! A57. Support Baseball. Bite Some Yankees! A58. Ditch the Bitch A59. Stop The Madness! A60. My boyfriend is out of town A61. Save The Drama For Your Mama A62. I'm my own best friend AND my own worst enemy. A63. Call me, Gerbil-boy A64. Bite Me! A65. Don't Take It Personally A66. Conjugal Visitor A67. Hair Stylist A68. If I'm Not Happy, Nobody's Happy A69. Problem with Authority A70. Why Me? A71. Remember, when somebody says something nice to you or does something nice for you, you don't have to take that! A72. Loads of Street Cred in Bed A73. BE QUIET: Or I'll Beat You Like I Own You. A74. *
Here what the cynics are saying about these funny t-shirts:
These funny t-shirts are so great they give me gas, big time gas. I only get big time gas when I'm excited and I'm definitely excited by these funny t-shirts. I mean these silly tees help get me through the days, most days. I wear one of these funny t-shirts to work every day, I do. And, so should you. I find that these funny t-shirts put my clients in a lighter mood and they don't take the news so hard.
- Grim Reaper
These funny t-shirts are astounding! I wore a funny t-shirt from this site just the other day and received so many compliments I had to finally take it off. I mean, people were bothering me so much, asking me where I bought the funny t-shirt and such. I don't like to be bothered when I'm out in public as I have a people-facing job. I'm going to wear some of these funny t-shirts again, though and see how it goes. If people laugh and roll around on the ground like last time, I'm going to have to take off the tee again.
- Newt Gingrich